A roofing company focused on Quality And Reputation
Tornado Roofing, Now Offering Discount Roofing Services For Fort Myers Residents
Tornado Roofing replaced my roof back in September of last year. After several calls to different roofers with no results, Jorge with the Tornado Roofing was able to get the insurance Company to pay for my roof replacement VS the initial offer of just one patch repair by the insurance adjuster. Since then I have recommended Tornado roofing to 3 of my co-workers and friends, and they all are very happy with the excellent work. I usually hate dealing with contractors but Jorge and his team were amazing.
I was very impressed they got out to me 1 day after a big storm when I know they were getting lots of calls. Julio was extremely professional and very nice. He gave me a free estimate and took his time to really investigate what the problem was. I would absolutely recommend them.
We know it isn't always simple to locate a roof repair services provider that operates close to where you live and work. The team at Tornado Roofing & Contracting is on call and ready to assist anyone in the Fort Myers area looking for roof replacement, roof repair and roof insurance claims. Our team provides all commercial and residential roofing services needed; from commercial repairs to all new residential roof installations.
When you work with Tornado roofing, you can be sure that you will be receiving a high quality job that's done right the first time. you can rest easier knowing our team always provides a straightforward repair and installation process for less.
Here are some of the services our team in Fort Myers specializes in:
Residential Roofing Service

And more roof repair needs.
No matter the reason for your call, we guarantee the best service possible at affordable pricing throughout the community. Choose the Tornado Roofing & Contracting team today and give your home or workplace the best in roofing repairs and maintenance services.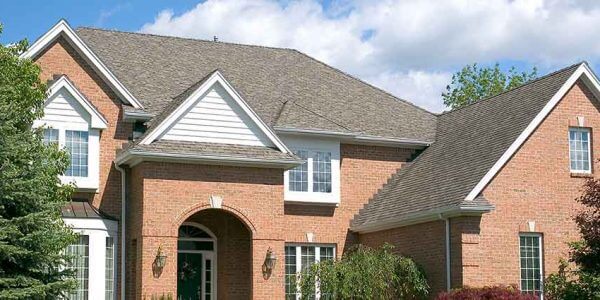 Residential Roofing
Most coastal Florida residents need assurance that their homes or businesses will withstand the next severe weather pattern. With more than 20 years of experience, Tornado Roofing & Contracting remains the trusted choice for many, offering you and residential new roof installation, repair, or replacement on the materials and systems you prefer. We offer extensive commercial roofing options for all types of commercial and industrial buildings.
Commercial Roofs
Commercial roofing systems require expert contractor teams to ensure everything is done correctly and your business is protected from the elements. We provide business services in addition to tiles and shingles, meaning you can count on us wherever you have leaks, gaps, and structural concerns. We provide the best solutions at the right price — no matter the materials.
Scheduled Maintenance
Preventative care is the best way to mitigate roofing problems all year long. Have your home or office building's roof regularly inspected by quality roofing contractors to ensure you're on top of issues as they arise. It's easier (and more affordable!) to fix small problems early than to wait until a large issue disrupts your life or work. Get the most from your roofing investments and keep your residential or commercial roof protected by scheduling regular maintenance and inspections today.
Clay Tiles
Clay tiles add a flair of Spanish colonial architecture to any building. These durable products not only look great, but can also help keep your home or office cooler. Such traditional roofing requires experienced installers to make the most of your investment, so contact Tornado Roofing & Contracting when you're making the change or need to get the best in repair service options.
Ceramic Tiles
Ceramic tile roofing is similar to clay products, but still needs an expert installation team to ensure it is laid correctly. These tiles are manufactured to mimic many different materials, including wood shake. When you need a straightforward way of updating your home's appearance, clay tiles are often the best choice.
Sloped Roofs
Steeply sloping roofs add lots of personality and value to your home. Unfortunately, they also prove challenging to correctly install. Our team offers the expertise you can trust for superior sloped roofs — no matter the material or its complexity.
Building Services
The right roofing team offers more than quick repairs. Our expert contractors take on more projects than anyone else in the community, with a roster of expertise that includes everything from new construction roofing to specialty building jobs. Better yet, we can take them all on for less. Save more on building services when you hire a Naples roofing contractor team you can trust.
Asphalt Shingles
Asphalt systems have been a trusted choice for decades. Their affordable costs and simplified installation make them an attractive option. If not installed correctly, however, you'll soon see missing tiles and water intrusion. Choose a qualified roofing expert to help you with your asphalt shingle repairs and installations.
Gutters & Downspouts
Many home and business owners forget the important role their gutters and downspouts play. Your roof is at risk of pooling water, moisture damage, and even foundation issues without them! Finding a gutter repair service isn't always a straightforward process, but Tornado Roofing & Contracting is available to take your call. Contact us for questions, concerns, or to learn more about our gutter solutions.
Cement Tiles
Florida in general and particularly Ft Myers is known for it's Cement tile roofs. These roofs are extremely durable and most of the roofs installed in the 70's still exist today. However, they can start to cause problems when they are sealed over and over again and trap hot air in the attic. Tornado Roofing & Contracting knows how to solve these problems.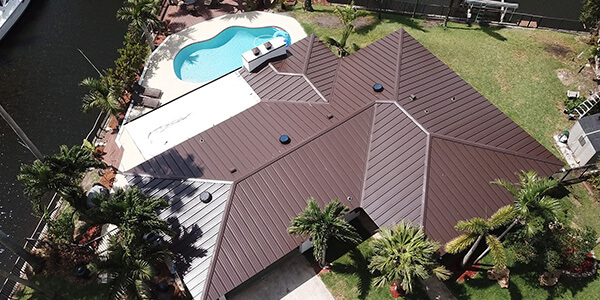 Metal Roofing
Quality metal roofing contractor in Fort Myers are not easy to come by because if the installation is done right, it can cause all sort of problems. We handle metal roof systems regularly in Ft Myers and are happy to assist you in upgrading to a metal roof or metal roof repair.
Flat Roofing
Flat roofing adds an impressive appearance to any north Naples or downtown Naples building, but can also develop leaks and concerns without proper care. When water pools on non-sloped surfaces, protective membranes can get punctured and your home or office building suffers as a result. Make sure your Fort myers-area roof performs at its best year-round by hiring Tornado Roofing & Contracting repair contractors today.
Contact Us Today
Why We're The Best Roofing Company In Ft Myers
First, we love Ft Myers and our office and homes are located close by. Tornado Roofing & Contracting has been operating in Florida for the last 20 years, and our superior quality and lower prices have helped us develop massive demand for our services. Our customers love us and recommend us, and we are extremely proud to have their ongoing support! Our team is fortunate to have received almost all of its business from referrals from satisfied clients.
Searching for roofing repair contractors doesn't need to be a frustrating process. Hire Tornado Roofing & Contracting, your local go-to team for Naples roofing services. No other team offers more options or more affordable pricing. Give us a call for your roofing needs, and we'll show you why more area residents repeatedly turn to us for quality, cost-effective roofing services.